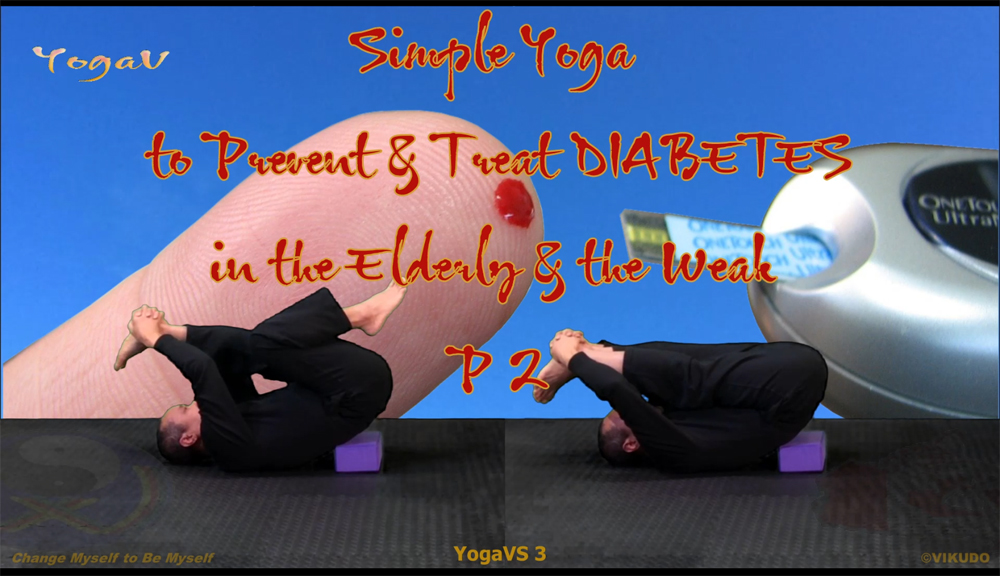 YogaVS 2, 3, 4, 5, 6 _ Simple Yoga to Prevent & Treat Diabetes in the Elderly & the Weak
Over 8% of the adult population worldwide suffers from diabetes (90% of which is type 2 diabetes), causing 2 to 5 million deaths a year.
Diabetes is a major cause of blindness, kidney failure, heart attack, stroke and amputation of the lower limbs.
Type 1 diabetes: the pancreas does not produce enough insulin. With current knowledge, there is no preventive measure for type 1 diabetes.
About less than 10% of people have type 1 diabetes. It is sometimes called juvenile diabetes because it is usually detected and diagnosed before the age of 20.
Type 2 diabetes: the body's cells do not respond properly to insulin. This is largely the result of excess body weight and physical inactivity.
Diabetes is a serious condition which should always be monitored by a doctor. Its symptoms include increased thirst, increased urination, increased appetite; dry mouth, vomiting; diarrhea; blurred vision; fast or irregular heartbeat; dizziness; unexplained weight loss … If you have had it for more than a week, consult your doctor for a diagnosis!
In addition to adopting strict diets that control blood sugar, exercise-based diabetes therapy was used and the results were positive.
People with type 1 diabetes who exercise for about half an hour per day, 3 or 4 days a week can reduce their need for insulin injection by 20 to 25%.
For type 2 diabetes, studies have also shown that people who exercise can reduce their risk of disease by 24%. The truth is that exercise is insulin's best friend, which helps move sugar from the bloodstream into cells.
Therefore, if you have been diagnosed with type 2 diabetes, you may need the power of exercise to regulate insulin.
Among the gyms that are suitable for the prevention and treatment of diabetes, yoga is a good choice thanks to the active time and place of practice, independence and many different exercise levels to be easily applied to each individual with different physical conditions.
These YogaVS exercises are intended for the elderly and people with weak bodies – who are unable to practice basic yoga postures, they are compiled on the principle of easy to difficult, the previous lesson serves as a prerequisite for the practice easier for the next lesson. Therefore, if you need to do these exercises to prevent or treat your condition, you should practice in numbered order, from small numbers (the previous one) to large numbers (the next one).
Associated exercises:
YOGAV 001 _ BREATHE PROPERLY WHILE DOING YOGA
YOGAVS 1 _ STRETCHING THE SPINE _ YOGA FOR SENIORS
YogaVS 2 _ Simple Yoga to Prevent & Treat Diabetes in the Elderly & the Weak _ P1
YogaVS 3 _ Simple Yoga to Prevent & Treat Diabetes in the Elderly & the Weak _ P 2
YogaVS 4 _ Simple Yoga to Prevent & Treat Diabetes in the Elderly & the Weak _ P 3
I wish you good practice, prevention and effective treatment of diseases!
VIKUDO