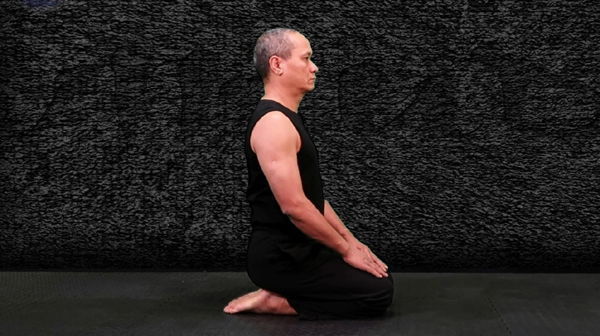 Read Time:
2 Minute, 4 Second
Stance 1 _ Sitting on heels _ Self defense and survival
The original name of the stance "Sitting on the heels"
Sitting in heels is a traditional posture in the martial arts world, sitting on the floor in a formal and polite manner. The standardization of this pose probably originated in Japan, with the original name Seiza (正 座 hoặc 正坐, literally "proper sitting").
Sitting on heels stance in martial arts
However, the heel position has also become a staple position in many branches of martial arts across the world. This pose is used for meditation, observation, performance, conversation, etc.
In terms of etiquette
In terms of etiquette, in martial arts dojos of East Asia origin, the heel-sitting position is frequently used in the process of learning, observing the teacher, and for many sects this position is also to combine with reverence to the master or fellow student …

Practicing an appropriate ritual is also a way to show respect, develop discipline, and train mentally and physically. By showing respect, the practitioner will show appreciation for the art he is studying as well as respect for the teaching and learning of his master and fellow students.
The Stance 1 _ Sitting on the heels can thus become in some way a symbol of spiritual victory over the ego over oneself, accompanied by a recognition of the importance of the other for the ego – for the self.
In this posture, the ritual demonstrates voluntary discipline of the mind and spiritual growth.
Benefits of sitting on heels
In addition to the values ​​mentioned above, an extremely important meaning that interests us a lot is the self-training value of this heel sitting position.
Through the practice of the position, the practitioner gradually builds up the necessary qualities of a martial artist, both physically and mentally.
Physically, the legs after a long period of practice, numbness and discomfort, will become very resilient, flexible and strong. In addition, the body's ability to find the point of adaptation and balance in space also forms the first bricks as a basic foundation.

Mentally, by practicing the seated position on the heels, the practitioner can meditate for the desired duration. With this position, the practitioner can get rid of bad thoughts completely quickly and accompany righteous thoughts.
Thus, by improving both physically and mentally, practitioners can in "an instant" mobilize the strength of the body to practice the movements and techniques of martial arts at a high level of requirement, namely: Fast, powerful and precise.
Stance 1 _ Sitting on heels _ Self defense and survival :
You can see: How to do diamond pose _ Yoga VB5