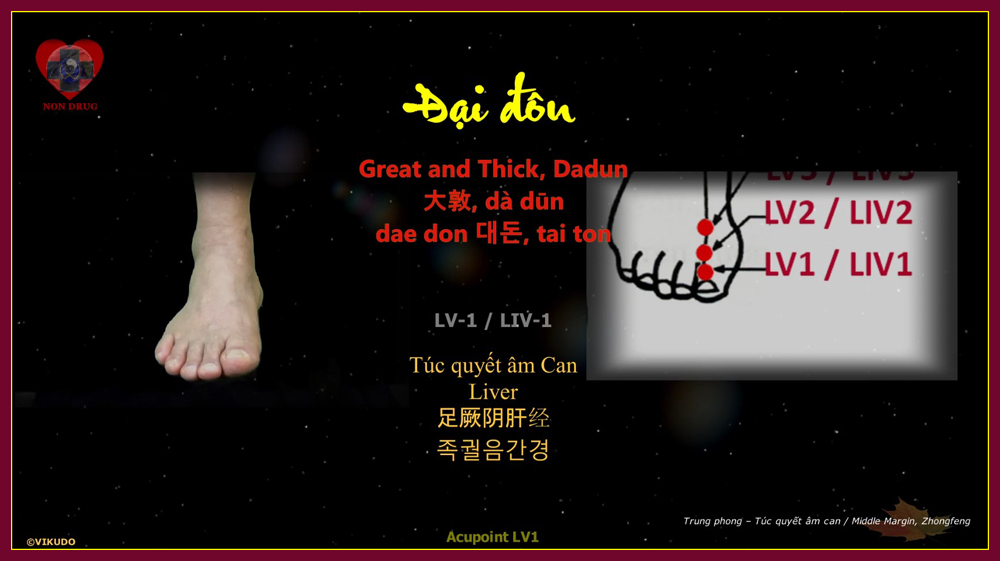 Read Time:
1 Minute, 4 Second
Dadun _ Great and Thick _ Liver _ Acupoint LV1
Acupoint LV1 _ Great and Thick, Dadun _ Liver _ LV-1, LIV-1
NAMES :
Great and Thick, Dadun _ Liver
Huyệt Đại đôn _ Kinh Túc quyết âm can
Grand et épais _ Méridien du foie
大敦, dà dūn – 足厥阴肝经
dae don 대돈, tai ton – 족궐음간경
Abbreviated in English LV-1, LIV-1
INDICATIONS :
Prolapse, testicular enlargement, uterine prolapse, amenorrhea, hemorrhage, heavy menstrual bleeding, hematuria, bedwetting, madness, epilepsy
ASSOCIATIONS:
Combined with Yin Bai SP1 acupoint (Wick Moxibustion), treats excessive periods.
Combined with Zhiyin BL67 acupoint to treat breech birth.
Combined with Zhaohai KD6 acupoint to treat fluke caused by welding.
Combined with Huiyin CV1 acupoint to treat children with air fluke.
Combined with Henggu KD11 acupoint, Guanyuan CV4 acupoint, Heyang BL55 acupoint to treat women with gonorrhea.
Combined with Khi mon acupoint (Extraordinaire-acupoint) to treat chronic cystitis, difficulty urinating
Combined with Qimen LV14 acupoint to treat swollen and stiff scrotum.
Combined with Guanyuan CV4 acupoint to treat swelling of the outer kidney, the outer kidney is deflected to one side.
Combined with Sanyinjiao SP6 acupoint to treat painful cramps in the small intestine.
Combined with Changqiang DU1 acupoint to also treat painful cramps in the small intestine.
Combined with Taichong LV3 acupoint to treat 7 types of painful liver meridian diseases.
Reference: Numerous documents on traditional Chinese and Vietnamese medicine
LOCATION AND FIND THE ACUPOINT:
Please watch the instructions in the video