Read Time:
2 Minute, 39 Second
VIKUDO Channels _ Welcome!
Welcome to VIKUDO
Ladies and gentlemen,
Dear friends!
VIKUDO completes the creation of different Youtube channels covering various topics. The videos will be published weekly, as follows:
1) Yoga learning free (Yoga VIKUDO channel on Youtube, in operation):
Includes a very basic Yoga Exercise System – VIKUDO Method, which requires the practitioner to have a high concentration to practice meticulously and methodically.
YogaVB _ Yoga Basic Postures: These are videos presenting good method for performing a basic Yoga posture, correctly and effectively.
YogaVT _ Therapeutic Yoga: These are applied exercises to treat certain common chronic diseases that are difficult to treat by other medical methods, such as back pain, insomnia, stress, etc.
YogaVP _ Prenatal Yoga: Exercises to support conception, pregnancy, childbirth. But in addition, there are still exercises for recovery after birth.
YogaVS _ YogaV for Seniors: Slow, Simple and Gentle YogaV Exercises ("Slow and Gentle YogaV"), first of all for the elderly with weak and weak bones and at the same time musculoskeletal system is more degenerative, less flexible. In addition, they are nevertheless also applied for young people physically fragile.
To receive notification of new posts quickly and immediately after posting, you can subscribe to the YouTube channel:
To go to Yoga VIKUDO Channel, click here !
2) VIKUDO teaches free martial arts VIKUDO (Channel VIKUDO) videos will be published soon
Includes basic exercises, to teach a martial arts level "0" person to have a really basic and really solid level, able to self-nurture and develop.
Includes "martial arts self-defense" exercises for everyone, but the main topics are those with a weak physical appearance, such as the majority of women … who are vulnerable. intimidation, intimidation, assault, etc. … and for all in unforeseen circumstances that the harsh reality can engender.
For ease of study and practice, register yourself and / or your child at the following YouTube address:
To go to VIKUDO channel, click here !
(The videos will be available soon, we expect to have a number of subscribers to a channel so that when multiple versions get a simultaneous start, the interaction, the exchange will be more effective).
3) Treat by Acupoint – VIKUDO (Channel ACUVI)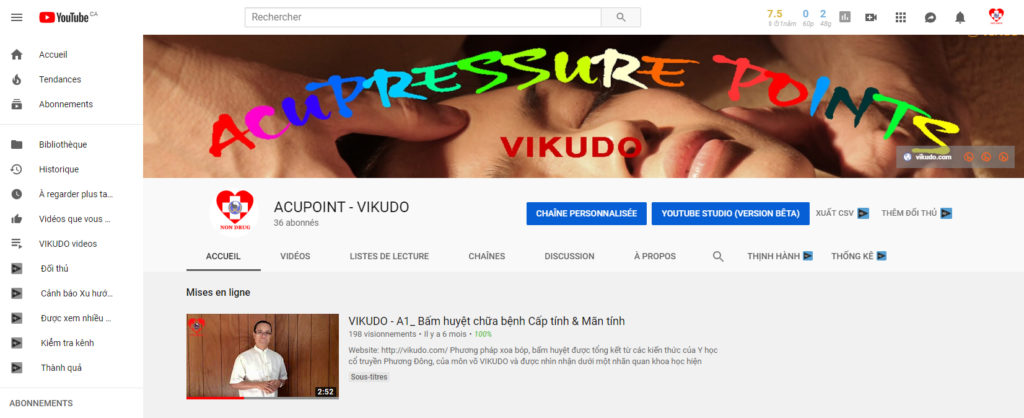 Acupressure, massage, acupressure points …, has published an introduction and will continue to post new videos:
Points: Includes video tutorials on quick and intuitive search of acupuncture points on the body.
Acupressure: Includes massage exercises, stimulating acupuncture to improve health and improve certain physiological and natural biological functions of the body; massage applications, treatment of acupressure of certain common pathologies.
Massage therapy: Includes massage exercises, with or without the use of essential oils (aromatherapy), to treat certain common diseases or to cause physical and mental effects, restores and improves a number of physiological and biological functions of the body. body.
To follow the latest videos, subscribe to our Youtube channel:
To go to ACUVI channel, click here !
4) Provides information on health, common medications and life issues. LIFE VIKUDO (Active)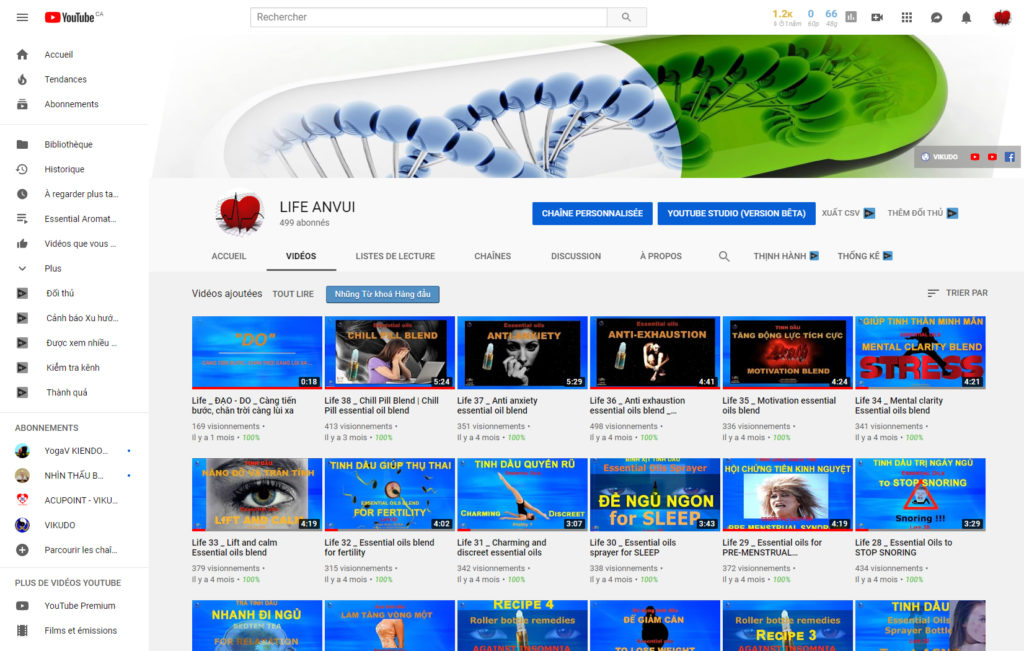 To follow the latest videos, subscribe to our Youtube channel:
To go to LIFE VIKUDO channel, click here !
VIKUDO channels cover different topics and videos will be released weekly, educationally and scientifically.
THANK YOU FOR YOUR FOLLOW AND YOUR SUPPORT !
Docteur en Physiopathologie