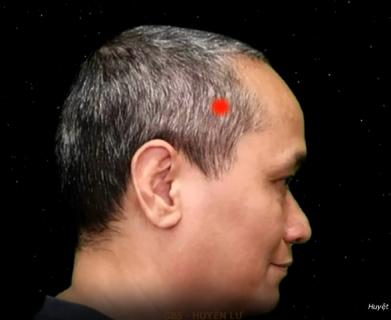 NAMES – MERIDIAN:
Xuanlu – Gallbladder meridian
Huyệt Huyền lư – Kinh Túc thiếu dương đởm
Suspended Skull – Méridien de la vésicule biliaire
xuán lú, 懸顱 – 足少阳胆经
hyeol lo 현로, ken ro – 족소양담경
Other Vietnamese names: Huyen Lo, Me Si, Tuy Khong.
Abbreviated in English : GB5
THERAPEUTIC ACTIONS:
Dispel the wind and calm the pains
INDICATIONS :
Hemicrania, toothache, nervous breakdown.
ASSOCIATIONS :
Xuanlu acupoint can be combined with some other acupoints to treat the following diseases:
Combined with ST8, LI4, GB9 acupoints to treat glaucoma.
Combined with GB4 acupoint to treat glaucoma and migraine headaches.
Combined with GB4, LI4, and GB6 acupoints to treat chronic headaches.
References:
Many documents of traditional medicine of China and Vietnam
TECHNICAL NOTES :
0.3-0.8 subcutaneous
Moxibustion
LOCATION AND FIND THE ACUPOINT:
Please watch the instructions in the video
GB5 | Xuanlu| Gallbladder meridian| Acupressure VIKUDO
(Waiting for update)
GB5 | Huyệt Huyền lư | Kinh Túc thiếu dương đởm | Acupoint VIKUDO