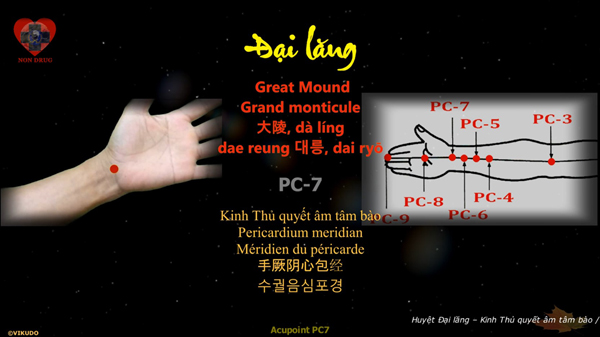 Read Time:
1 Minute, 59 Second
Great Mound – Pericardium meridian _ Acupoint PC7
NAMES :
Great Mound – Pericardium meridian
Grand monticule – Méridien du péricarde
Huyệt Đại lăng – Kinh Thủ quyết âm tâm bào
大陵, dà líng – 手厥阴心包经
dae reung 대릉, dai ryō – 수궐음심포경
Abbreviated in English : PC7
THERAPEUTIC ACTIONS:
Purifies the heart, calms the mind and maintains the blood.
Local treatment: Wrist pain, hot palms.
Followed the meridian: Contraction of the elbow, pain in the region of the heart, pain in the chest, pain in the mind, etc.
Whole body: Vomiting, bloating, poor digestion, frenzy, easily frightened mind, heat sickness, insomnia, etc.
INDICATIONS :
Treat anxiety, epilepsy, stress, insomnia.
Reduce fever, cure colds, reduce body heat, prevent convulsions due to high fever.
Treatment of diseases of the bones and joints of the hands: pain in the hand, pain in the shoulder, arthritis of the hand, …
In some cases, the PC7 acupoint is also indicated to treat vomiting, abdominal bloating, indigestion, heat stroke, heart attacks, chest pain…
ASSOCIATIONS
Combined with acupoint A Thi Huyet, acupoint KD27, acupoint CV17, acupoint SI1 and BL40 to treat breast tumor.
Combined with acupoint M-HN-3, acupoint DU20, acupoint KI3 treat insomnia.
Combined with Jiangbailao acupoint (Extraordinary acupoint), CV9 and BL40 acupoint for sunstroke treatment.
Combined with the TE6 acupoint, the TE5 acupoint treats abdominal pain due to constipation.
Combined with acupoint CV14, acupoint CV17, acupoint CV10, acupoint BL15, acupoint CV13, acupoint Trung Khoi (Extraordinary acupoint), acupoint CV12, acupoint ST36, acupoint BL20 and BL21 deal with some hiccups, choking
Combined with acupoint CV17, acupoint CV12 treats reverse cough and belching.
Combined with acupoint PC4 to treat vomiting blood.
Combined with the PC3 acupoint, the PC6 acupoint treats heart and chest pain.
Combined with acupoint PC8, acupoint LI11, acupoint SI9, acupoint BL12 treat leprosy causing ulcers.
Combined with acupoint TE5, acupoint BL13, acupoint BL23, acupoint CV13, acupoint BL20 treat tuberculous hemorrhages.
Combined with acupoint DU26, acupoint LI4 treats hysteria.
Combined with acupoint PC6 and HT8 treat insomnia, rheumatic heart disease.
Combined with acupoint CV4 to treat hematuria.
Combined with the SP6 acupoint, the CV12 acupoint treats pain and pain.
Combined with the LI6 acupoint to treat numb throats or night sweats.
Combined with acupoint HT8 cough, asthma.
Combined with the CV13 acupoint to treat heart pain.
Combined with the LU5 acupoint to treat shortness of breath, shortness of breath.
References:
Many documents of traditional medicine of China and Vietnam
LOCATION AND FIND THE ACUPOINT:
Please watch the instructions in the video
Great Mound – Pericardium meridian _ Acupoint PC7: