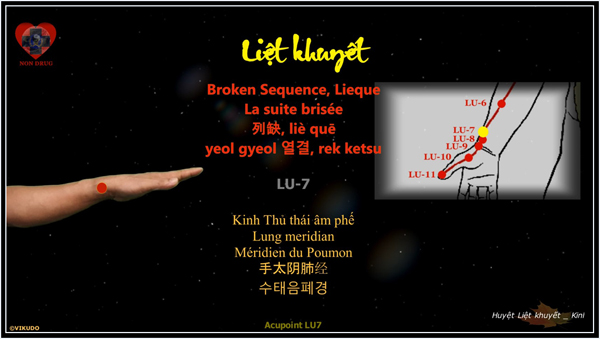 Read Time:
1 Minute, 41 Second
Acupoint LU7 _ Lieque _ Broken Sequence – Lung meridian _ LU-7
NAMES :
Broken Sequence, Lieque _ Lung meridian
La suite brisée – Méridien du Poumon
Huyệt Liệt khuyết _ Kinh Thủ thái âm phế
列缺, liè quē _ 手太阴肺经
yeol gyeol 열결, rek ketsu _ 수태음폐경
Abbreviated in English : LU7
THERAPEUTIC ACTIONS:
Lieque acupoint is used to ventilate the lungs, remove toxic moisture in the body, ventilate the conception vessel.
INDICATIONS :
Lieque acupoint (Acupoint LU7 _ Broken Sequence) is used to treat glocom, cough, asthma, hemiplegia, elbow pain, wrist pain, yellow urine, difficulty urinating, frequent urination, neck pain
ASSOCIATIONS
Lieque acupoint is combined with some other points to treat some specific cases as follows:
Combined with BL17, BL18, CV6, BL23, LV4 and BL20 acupoints to cure painful urination, frequent urination.
Combined with acupoints BL17, LV13, LV1, BL22, BL23 to treat hematuria.
Combined with acupoints BL43, DU9, LI4, DU10, BL13, CV22 and ST36 to treat cough caused by wind and cold.
Combined with CV17, BL13, ST36 acupoints to treat phlegm cough, cold cough, chest pain.
Combined with acupoint ST4 to treat thirst.
Combined with acupoints KD27, CV17, LI4, ST12, LI18, M-UE-1, CV22, SI16 and LU1 to treat goiter
Combined with the LI5 acupoint to treat long tendons, the extensor tendons of the thumb are inflamed.
Combined with SI3 acupoint to treat headaches, chest and neck pain, neck fatigue.
Combined with LI4, LI20, M-HN-3 acupoints to treat sinusitis.
Combined with acupoint LI11 to treat illnesses caused by heat, turmoil, hot body, warm arms, tight lips and mouth, sweating, body spasms.
Combined with ST12, LU10 and SI1 acupoints to treat cough.
Combined with ST40, KD7 acupoints to treat swollen limbs.
Combined with acupoint LU9 to treat migraine, cough and phlegm.
Combined with acupoint ST36 to treat acute asthma.
References:
Many documents of traditional medicine of China and Vietnam
LOCATION AND FIND THE ACUPOINT:
To know the location and how to find the Lieque acupoint, you could watch the instructions in the video: